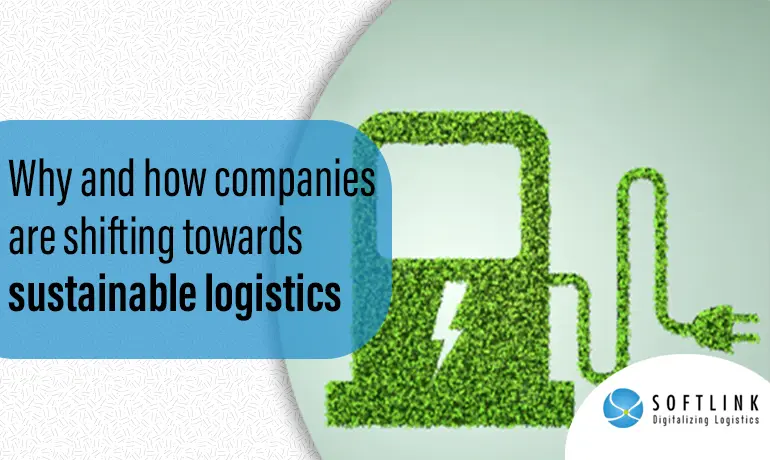 "Everyone wants to get back to nature. But no one on foot" – Werner Mitsch
Climate change has been the most-discussed topic in the recent past. And a phrase that almost synonymously appears in the discussions is "sustainable logistics". The collective demand for climate change has evoked several stakeholders and requires action from many parties including logistics service providers (LSP). With all the buzz around sustainability and going green, let's know more about sustainable logistics and the progress LSPs are making toward a greener world.
What is sustainable logistics?
Sustainable logistics is analyzing and evaluating the transportation of goods from an environmental perspective. It includes many aspects from reducing paper usage to emissions and waste disposal, packaging, recycling, and reducing energy consumption to name a few. The need for greener logistics arises from the fight of easing the global climate crisis.
With more and more companies adopting sustainable logistics, customers are preferring LSPs prioritizing change leaders.
Benefits of adopting sustainable logistics
Consumers more proactive towards climate change are preferring brands that promote environmental sustainability. So if you're an LSP with sustainable practices, your company has a better chance to attract shippers with a similar mindset. And research supports this. An IBM research says 57% of consumers are ready to change their eCommerce buying habits if it helps reduce their environmental impact.
Reduced costs: With your customer's support, and choosing to implement the right technology, you can reduce your delivery costs while boosting your brand image.
Increased profits: Greener fuels or deploying electric vehicles, especially in the last mile can bring significant savings.
Minimize waste: By going green, LSPs are making their processes paperless and digitizing documentation like Bill of Lading, and proof of delivery thus reducing paper waste.
How companies can get started with sustainable logistics
Route optimization: If your company is yet to begin a fleet of green vehicles, reducing the miles on your total delivery can be a great start. Using route optimization with transport management software, you reduce the total emissions.
Offer customers greener delivery options: Customers willing to contribute to a greener ecosystem, can choose between energy-efficient solutions for delivery for example the type of transport, fuel, and vehicle. Sea transport takes longer than air but produces lesser emissions. Similarly switching to greener causes fuel reduction by 3% and it means your cost reduction by 1%. So if the customer can accept a later delivery, they save on the costs and help reduce the pressure on the climate too.
Last mile and reverse logistics: Last mile delivery can take up a significant amount of the total delivery cost. By applying best practices in the last mile and reverse logistics, you can eliminate wastage of returns and optimize pick-ups.
Digitize the paper trial, from product details to proof of delivery: Sustainable logistics also includes eliminating paper-based processes. Switching to e-documentation helps to go paperless faster. Logistics management software like Logi-Sys handles all functions digitally. So from e-invoices to proof of deliveries, you can track and store the status of all documents in the system.
Climate change beginning with sustainable logistics is the right step to take. But we're still in a very nascent stage of widespread adoption. Creating awareness among your customers about eco-friendly modes of transport reduces the cost and pressure for faster delivery. The optimal use of technology is key to bringing about a real and quicker change in the climate with logistics.